Prom Nite!
The earlycomers!
Our suave treasurer!
Our not-so-suave ex-treasurer..
Joseph with Oi Wing!
The three belles of the night!
Where's your tie?!
Yixin and Joe!
Although not our class.. but.. EYE CANDY!! O_O
The hunks that left all the girls swooning in their wake!
Even more hunks! (Sorry about the blur quality.. I wasn't the photographer)
Va-va-voom!
Yihui for once looking pretty in FEMININE WEAR!
Who got the best, whitest, cleanest teeth?
The rockers!
Munch munch..
You!! Yes, you!!
What a pair! (Unfortunately this pair lasted for one night only before Yihui absconded with someone else..)
Hot chicks!
Va-va-voom #2!!
Striking up a pose... unsuccessfully.
No!! No!! Don't flash!!
Peace!!
Trying to crush Chwen under our combined weight! Class photo! Woo-ee!
Yea, go S17!
Chwen's trying not to look at uh..
Mystery man!
Snobbish Parisian couture!
Trendy! Fashionistas!
Our former S17 member looking utterly stunning in a small little cocktail dress with an inappropriate accessory to her right..
Jason's friend, Salas said: "Tonite is the nite man. Go c the rest of her boobs. Go go!"
Woooo!! Jason's hitting home runs man!!
Looking for girlfriends. Please call 1800-BINGBENCHWEN
Agatha and Ruby!
Joseph and Sara!
The Air-Rifle drop-dead stunners!
Joseph and Melissa!
Post-prom, decisions decisions! Where shall we go?!?
Busy busy busy people!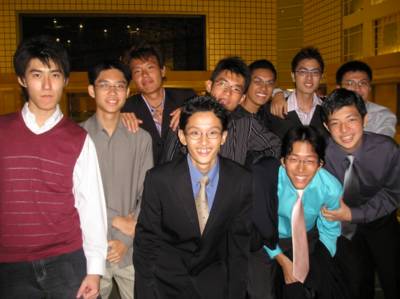 The guys!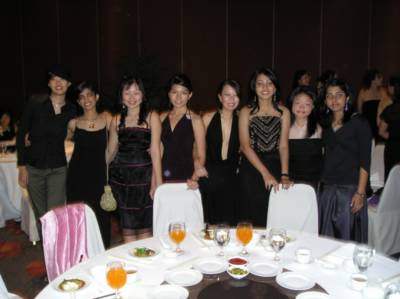 The girls!